RTS and Our Rooftop System Specifications are Available for Download on MasterSpec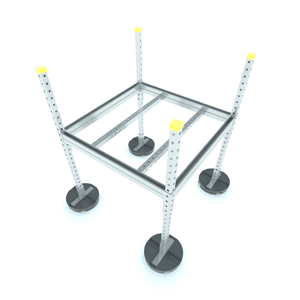 Are you looking for system specifications and product data pertaining to our line of rooftop support systems? Do you want to know if our products meet your project requirements? Well now you can easily download our rooftop system specifications through Product MasterSpec. We're located in "Section #230529 – Hangers and Supports for HVAC Piping and Equipment". Once downloaded, you'll have instant access to our rooftop system specifications as well as other information such as product data and descriptions, material used, specific measurements and more!
What is Product MasterSpec?
With over 12,000 users, including the top architectural and engineering firms across the country, MasterSpec has been the industry standard since 1969. They offer a comprehensive library of specifications spanning 1,700 sections, all filled with documents that contain product overviews, editing instructions, reference standards, manufacturer and product comparisons, drawings, specification checklists, and more. It's endorsed by The American Institute of Architects (AIA), the American Council of Engineering Companies (ACEC), the American Society of Interior Designers (ASID), the National Society of Professional Engineers (NSPE) as well as ASLA, CASE, IIDA and NLA.
When visiting "Section #230529 – Hangers and Supports for HVAC Piping and Equipment", you'll see side by side comparisons of similar manufacturers and products. From there, you'll be able to visit our company specific page, where you'll get instant access to our MasterSpec document which contains system specifications for our equipment supports, duct supports, metal and fiberglass support systems, pipe stands and more. Specific areas covered in our document include product data and descriptions, material used, and other useful rooftop system information pertaining to your next project. While you're there, you'll also receive instant access to a FREE downloadable copy of our latest Rooftop Support Systems catalog. Everything you need for your next project is contained in this literature which is available through MasterSpec. For more information on the products we offer or to download our MasterSpec document, click the button below.