Supporting Your Pipes & Ducts Has Never Been Easier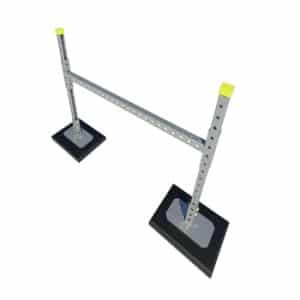 When looking for an effective rooftop support system that can support your pipes and duct work, look no further than our H-Stand. Our custom designed H-Stands are manufactured in house and are made to meet your specific needs.
Designed for safely and securely mounting pipe(s), spiral or rectangular duct and cable trays, our H-Stands are available in a variety of configurations for numerous applications and help to maximize job site efficiency. The non-penetrating rubber bases eliminate the need for roof work and the welded cross braces and pre-cut framing reduce hardware while still allowing for easy adjustability. There is no prefabrication time required, making our H-Stands the ideal solution when looking for reliable pipe supports.
Meeting a Customer's Needs in a Hurry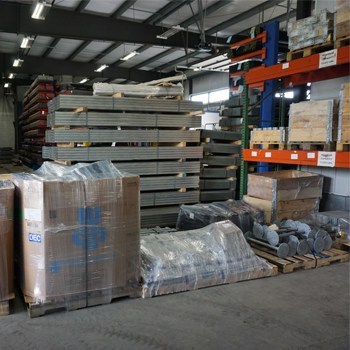 Back in 2018, we were asked to fulfill a large H-Stand order for a contracting company that needed duct supports and other rooftop support systems for a new research/lab building that was occupied by one of the nation's largest pharmaceutical companies. We were able to fulfill this first order on time and on budget. The project coordinator on the job-site was very pleased with the fast and friendly customer service our Rooftop Support Systems division provided and they were amazed at how easy it was to install and adjust our supports.
Flash forward to 2020. The pharmaceutical company is now one of the front runners in the race to find a cure/vaccine for COVID-19 and they have another H-Stand for a retrofit that is being built to help improve their research efforts. The same contractor was tasked with completing this project and once again, they reached out to us for a rush order of 70 H-Stands in a variety of sizes. According to the project manager, "The project is moving a million miles an hour and every day is critical".
Our team of project managers went straight to work to get this order fulfilled and because we manufacture H-Stands in house, we had the necessary parts and pieces in stock. We were able to pull, pack and ship the entire order to the customer in less than 48 hours. Thanks to our dedicated team of hard workers, both in the offices and in the warehouse, we were able to meet the needs of our customers yet again, this time under much different circumstances.
Complete Your Next Project for Less With RTS
Our Rooftop Support Systems (RTS) division offers a unique line of roof duct and pipe supports that can meet your project needs. No job is too big or too small for our project managers and estimators. We'll make sure we meet all of your custom requirements along the way. Click the button below to download a FREE digital copy of our Rooftop Support Systems Catalog and get started on your next project.