Our NEW 2019 Rooftop Support Systems Catalog Is Here!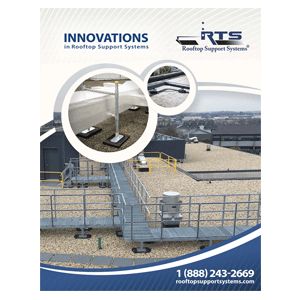 Do you want instant access to our entire Rooftop Support Systems database?Do you want the most up to date product information on a wide range of rooftop products? Do you want to be able to access this information at anytime and from anywhere? If you answered yes to any of these questions then look no further because our NEW Rooftop Support Systems Catalog has it all. By downloading our FREE catalog, you'll gain instant access to RTS product information, product specifications, product finishes, rooftop support capacities and more! Everything you need to complete your next project can be found in this PDF download. By downloading this paperless catalog, you'll have everything you need at the tips of your fingers, ready to be accessed anywhere, anytime. And the best part; it's yours to keep forever!
Get informative details pertaining to all of our custom rooftop support systems including:
Access Platforms
Crossover Bridge Supports
Roof Pipe Supports
Duct Supports
Equipment Platforms
Maintenance Platforms
Roof Stairs
And More
Rooftop Support Systems Does It All
Rooftop Support Systems (RTS) is one of the main divisions of Eberl Iron Works, Inc. RTS is the maker of the patented PUC rubber base support system and specializes in a wide variety of top quality, cost competitive roof support products. We've been fabricating these custom rooftop products, meeting the needs of our customers, and shipping our products nationwide since 1923.
What Are You Waiting For?
Don't miss out on the most up to date information for all of our Rooftop Support Systems products. Download our catalog today and get instant access to everything you need for your next rooftop project. Not only will you have everything you need, but you'll also be able to reference this catalog anywhere and at anytime because it's yours to keep. ACT NOW! Click the button below to download your FREE digital copy of our Rooftop Support Systems catalog today!