Access Platforms make it safe and easy for workers to perform maintenance of rooftop equipment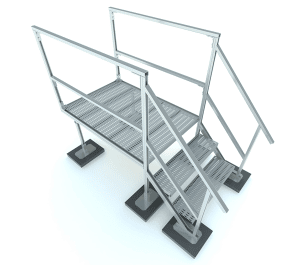 With Access Platforms, maintenance workers have direct access to equipment panels, doorways and other points of access to work on rooftop HVAC, condenser units, fans and other rooftop equipment. Access Platforms can also provide a safe pathway over conveyors, pipes and other obstacles.
The basic design of our modular, turnkey Access Platforms are customized to suit the height and width requirements of your specific project.
Similar to the RTS Crossover units, our Access Platforms utilize non-penetrating rubber bases, high strength steel framing, and 14 gauge anti-slip grating. They can support up to 550 lbs. The difference is that the bases are offset to allow the platform to rest flush against the unit that it is intended to service.
There are two standard versions available that are modified to meet the needs of any project:
The End Access Platform (shown above) allows access to a single equipment door or panel.
The Side Access Platform (shown below) spans the entire side of a unit, granting access to all doors and panels along that side.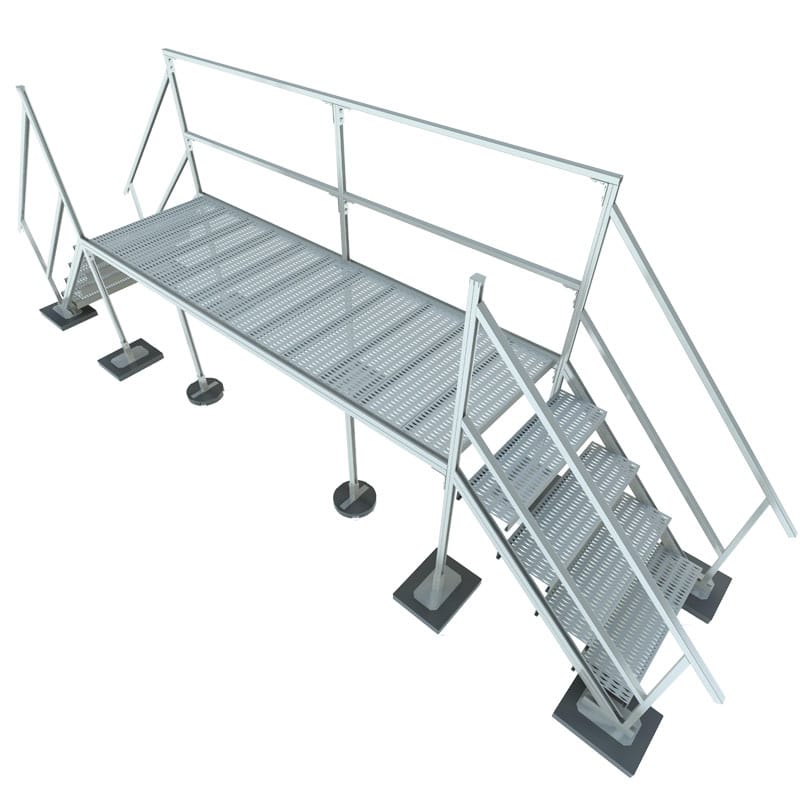 Assembly is simplified, requiring no special tools or welding. Access Platforms rest on 100% recycled rubber bases, which can be placed directly on rooftops, without the need for an additional barrier layer, without causing harm to your rooftop. Additionally, rubber bases help to disperse weight more evenly, over a greater surface area of your roof, adding to the roof longevity. Bases are extremely durable and UV resistant.
Available finishes: Pre-galvanized, Hot Dip Galvanized, and Stainless Steel.
Rooftop Support Systems: Engineering peace of mind through quality and innovative products
◙ No need for measuring, cutting, or welding on site
◙ Adjustable components are assembled in place, on your rooftop
◙ Weather and UV resistant for high performance in a variety of conditions
◙ 100% Recycled Rubber bases placed directly on roof w/o causing damage