Condensing Unit Supports for Strong, Economical Rooftop Elevation of Condenser Units
Condensing Unit Supports are designed to conveniently rest on rooftops, without penetrating their surface. They provide sturdy, adjustable support for condenser air units, as well as other rooftop equipment, and allow for air flow around the unit. Condenser supports also make it easier and more convenient for maintenance workers to access the units for service and repairs.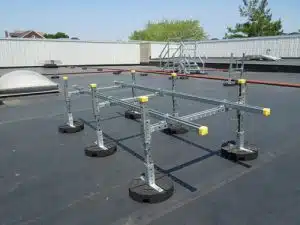 Condenser Unit Supports are a turnkey solution for mounting Condenser Units as well as many other types of HVAC equipment and mechanical rooftop equipment, including:
Air Conditioners
Blower Coils/ Fan Coil Units
Air Handling Units (AHU)
Terminal Units
Makeup Air Units (MAU)
Rooftop Units (RTU)
Chillers
& More
Heavy Duty Condensing Unit Supports are lightweight and easy to transport. They are manufactured from 1/16" to 1/4″ thick steel depending on the size and weight of the equipment being supported. Available finishes are Galvanized and Stainless Steel.
Supports allow for airflow underneath and around supported equipment, while also providing elevation, which prevents the possibility of your expensive equipment sitting in standing water or being buried under snow. These added benefits can help to substantially increase the life of your HVAC equipment.
Supports come in standard sizes and are available in 18", 24", 36" and 40" squares. Custom sizes of supports are available for both light duty and heavy duty applications.
Rooftop Condenser Unit Supports are modular and can also be used in conjunction with cable tray supports, piping supports, duct supports and solar supports.
The Rooftop Support Systems division of Eberl Iron Works is excited to help you design your next application. We can assist you in choosing the correct supports for your job. Our friendly and knowledgeable staff has over sixty years' experience in support systems.