Roof Duct Supports For Seismic Activity and Heavy Winds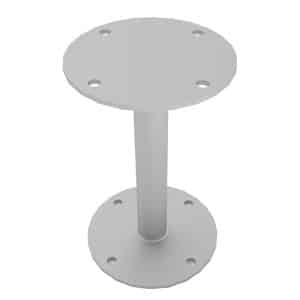 Our Rooftop Support Systems (RTS) division offers a unique line of roof duct supports that can be used where seismic issues and high wind loads are a concern. They can be used for a number of different rooftop applications and have supported various things such as cable trays, HVAC dust systems and other rooftop pipe systems. Made with a heavy-duty steel base, our roof duct supports are securely bolted down to your roof surface for a sturdy, permanent connection, ensuring your piping and duct systems stay safe during extreme weather or seismic conditions.
The Unique Design Offers a Simple Solution
Our seismic roof duct supports have a unique, round base design to the upright which ensures a smooth roof flashing. This means connection points can be easily sealed to keep your roof waterproof. Like all of our roof support systems, these seismic and wind supports can also be easily adjusted to accommodate a range in height variance. This added bonus takes away the headache of expensive re-works or changes in material when minor alternations need to be made.
Roof Duct Supports In A Variety of Styles
Rooftop Seismic Supports for Piping and Duct Systems include:
RTSSPBWIND – this wind tie down base is used to address wind load concerns while minimizing rooftop penetration. They are constructed from solid steel and are hot dip galvanized for superior weather resistance.
RTSF24 – using the same rubber components as the RTSF21, this base doubles the surface contact with the roof. It's typically used for heavy-duty applications or where single axis forces are a concern. They are constructed from 2″ steel tube and hot dip galvanized to increase weather resistance.
RTSBRAC – in areas where the RTSSPBWIND is used, this bracing is typically required to hold proper spacing between h-stands.
RTSH-P and RTSH-P-D – these direct mount h-stands offer excellent support for pipe and duct systems while ensuring a secure, permanent connection to your rooftop.
In areas where seismic activity and heavy wind loads are a concern, our Rooftop Support Systems division offers a unique line of roof duct supports that can meet your project needs.
Click the button below to learn more about our Wind and Seismic Bracing products.