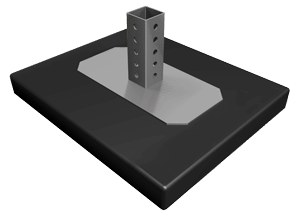 Decreasing Roof Penetrations with Non-Penetrating Roof Mount Bases
Installing and securing rooftop equipment and supports can sometimes involve the need to penetrate the membrane of your roof which increases the chance of water damage and compromises the integrity of your surface. With that in mind, Rooftop Support Systems (RTS) finds ways to decrease the number of times your roof needs to be compromised by providing non-penetrating roof mounts.
Work Smarter, Not Harder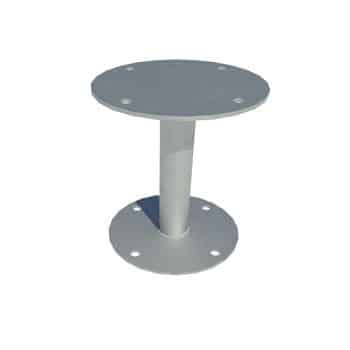 Our team of rooftop project managers and engineers were recently tasked with designing equipment supports and h-stands for a college in Fredonia, NY.
Competitor drawings called for a design with 88 roof penetrations to support their duct work and condenser units. We were able to provide a solution that reduced the number of roof penetrations from 88 to 24 by using a combination of RTSF21 (non-penetrating rubber) and RTSSPBWIND (penetrating roof mount) bases.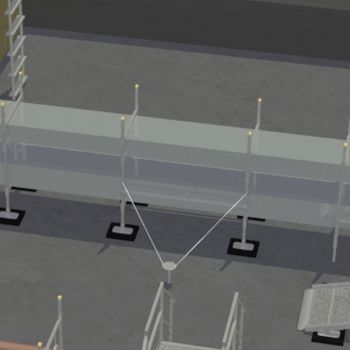 How We Did It – A Combination of Non Penetrating & Penetrating Roof Mount Bases
(8) Equipment Supports and
(28) H-Stands
Our proposed design called for equipment supports and h-stands to be fabricated using our RTSF21 bases; a non-penetrating roof mount option that allows support systems to sit securely on your roof without compromising the membrane. Once installed, each unit was secured with a single direct mount RTSSPBWIND tie-down base.
This added increased stability, decreased the number of times the roof would need to be penetrated and passed the local wind requirement for 120 mph. The customer approved the design, placed the order and the material was delivered to the job-site, ready to assemble.
Who We Are and What We Do
Created in 2009, Rooftop Support Systems, a division of Eberl Iron Works, Inc., has been providing customers with non-penetrating roof mount supports, custom crossovers, access platforms, H-Stands, walkways and more. Our skilled team of designers and estimators make sure to take the time to work hand-in-hand with every customer, providing the highest quality experience we can offer. Click the button below to download a copy of our Rooftop Catalog and explore all the products and services we offer!