Heavy Duty Roof Stanchions and Duct Hangers
Duct Hangers attached to roof stanchions are a great way to prevent wind damage to roof in areas with high wind load requirements. Also known as roof mounted duct hangers or stanchions, these roof stanchions ensure your HVAC and piping are securely mounted to your commercial building. They prevent swaying, warping and movement of equipment and systems that are a crucial part of your structure.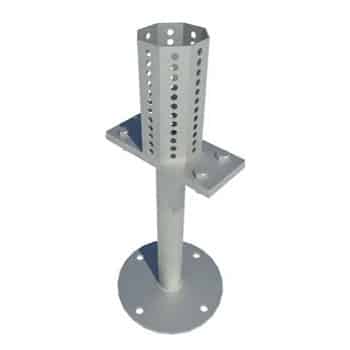 Roof Mounted Ductwork Hangers
Constructed with heavy-duty sikla, our roof mounted ductwork hangers are directly attached to the roof membrane, ensuring a secure connection that can support the weight of your equipment while also being able to withstand the wind load requirements according to your local codes. Proper roof flashing applied after installation then provides a waterproof seal, protecting the integrity of your roof and commercial building.
How Do Duct Hangers Attach to a Structure
Our Rooftop Support Systems team of project managers and engineers recently completed a project in Florida that included (4) duct hanger supports that were constructed out of Sikla SiFramo and were directly mounted to the commercial building roof using our RTSSPB80. Because of the wind load requirements and to prevent wind damage to roof, our engineers were required to design a hanger system that needed to withstand up to 150mph wind speeds. The strength of the Sikla SiFramo along with the direct mount bases created a perfect system that would withstand the elements and securely hold the rooftop equipment. The following steps are taken when installing duct hangers and direct roof mounted hangers.
1. Place base on roof based on design layout
2. Cut roofing membrane and insulation to expose structure
3. Bolt base to structure using appropriate fastener
4. Waterproof roofing penetration with flashing or a pitch-pocket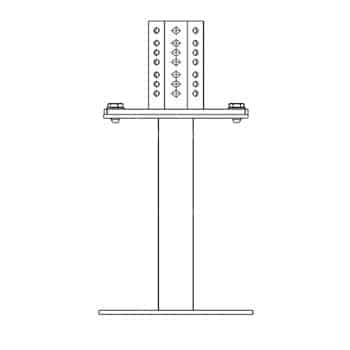 5. Slide siFramo 80 beam component support onto fitting
6. Secure with provided self-forming screws. (4) each per base.
Spacing for Duct Hangers and Supports
Measuring out the proper spacing is crucial when installing duct hangers which will provide the necessary support as well as prevent wind damage to roof. Per our product submittal sheet: "Horizontal support spacing according to pipe specification, or horizontal pipe support spacing according to applicable building code. Do not exceed manufacturer's suggested spacing of 8-foot centers as loading permits."
Who We Are and What We Do
Created in 2009, Rooftop Support Systems (RTS), a division of Eberl Iron Works, Inc., has been providing customers with non-penetrating roof mount supports, custom crossovers, access platforms, h-stands, safety railing systems, walkways and more. Our skilled team of designers and estimators make sure to take the time to work hand-in-hand with every customer, providing the highest quality experience we can offer. Click the button below to learn more about our Rooftop Support Systems division as well as the products and services we have to offer!