Roof railing, also referred to as roof safety rail or roof guard rail, is a relatively new product line for Rooftop Support Systems, having only been launched in 2019. It was born out of customer demand. Sure, there were already plenty of other rooftop railing solutions already on the market, but we kept hearing the same concerns from our customers, time and again.
The solutions that were available were expensive, and required too many installation steps, which also drove up labor costs. On top of that, lead times were often lengthy. With so many customers asking for a better solution, we knew we had to come up with our own.
Armed with the knowledge of what was causing customers the most concern, we set about designing a solution that would relieve all of their frustration. Building off the popularity and success of our rubber base products, we worked with our rubber molder to create a custom base, specifically designed for roof railing, we purchased tube bending equipment, and we worked with hardware manufacturers to come up with a cost effective roof safety railing system that would be quick and easy to install – even for unskilled laborers. And, best of all, it could be quickly manufactured, shipped out and delivered to job sites.
We had no trouble convincing existing customers to switch to our roof guard rail after launch. All we had to do was provide them with a price quote and lead time, for comparison to their existing systems, and list out the key benefits for them. Once that was done, the decision to switch practically made itself.
Key Benefits of RTS Roof Railing
Utilizes Non Penetrating Rubber Bases
Easily Installed by a General Labor Workforce
In Stock for Quick Order Fulfillment
Hot Dip Galvanized or Safety Yellow Powder Coat Standard
Meets OSHA 1910 Guidelines*
Takeoff and Assembly Instructions Tailored to Your Job Drawings Upon Request
How Do Guard Rails Work When Working on a Roof?
The main purpose of roof railings is to provide fall prevention through edge protection. By erecting a physical barrier between roof goers and the edge of the roof, you are effectively eliminating potential fall hazards. Although edge protection is the main purpose of most roof safety rail applications, there are many additional uses, including:
Limiting Access to Equipment / Equipment Platforms
Limiting Access to Restricted Areas
Providing Fall Protection for Split Level Roofs / Other Elevation Changes
Providing Fall Protection for Roof Stairs
A typical roof gaurd rail systems consists of a top rail, mid rail, post and base. By designing a single rail component that incorporates everything but the base, we've eliminated extra hardware and steps. By manufacturing our railings in standard lengths: 4′, 6′, 8′ and 10′, we've also eliminated the need for cutting and customizing at the job site. Our standard railings can be mixed and matched to fit virtually any rooftop scenario.
How to Attach Railing to Flat Roof Deck?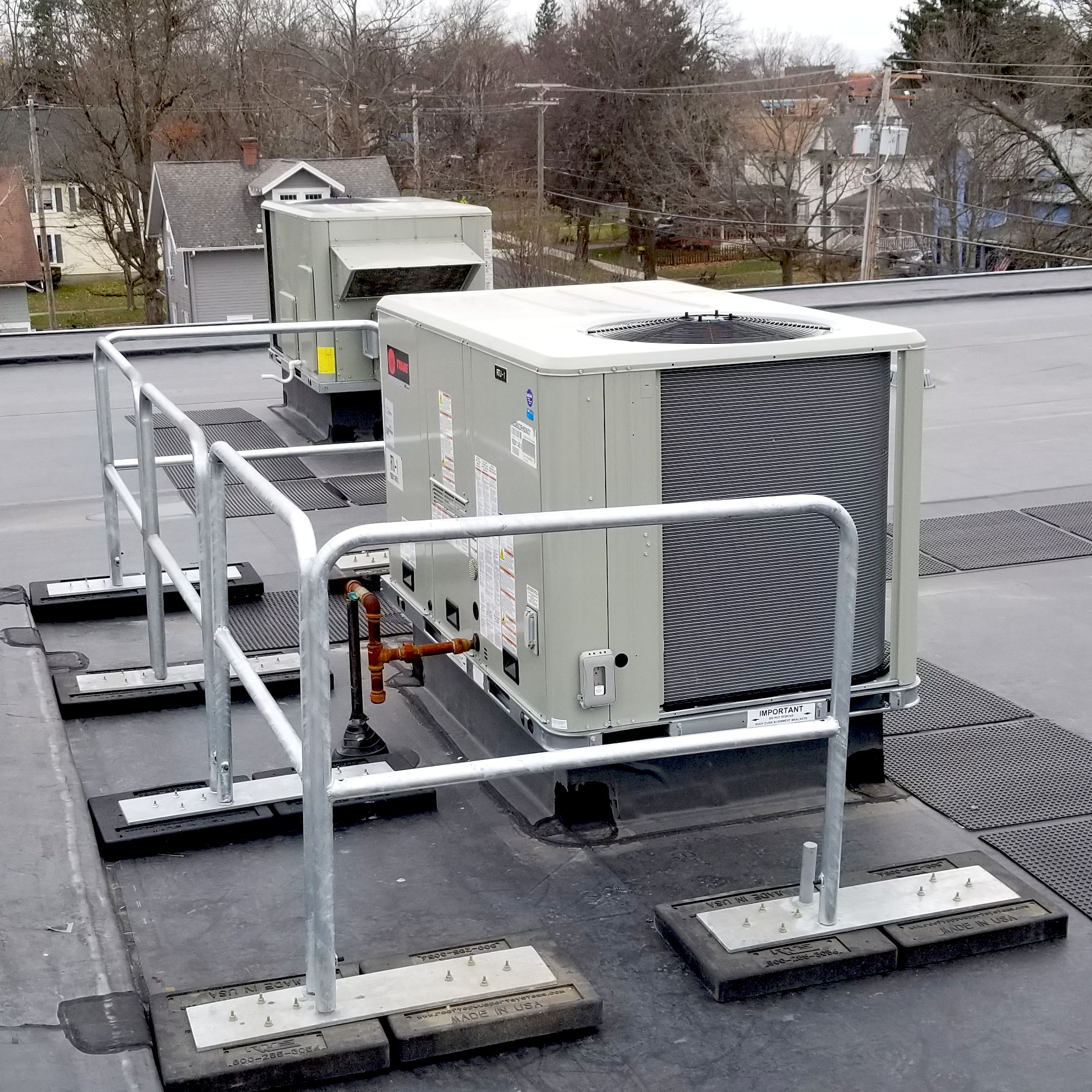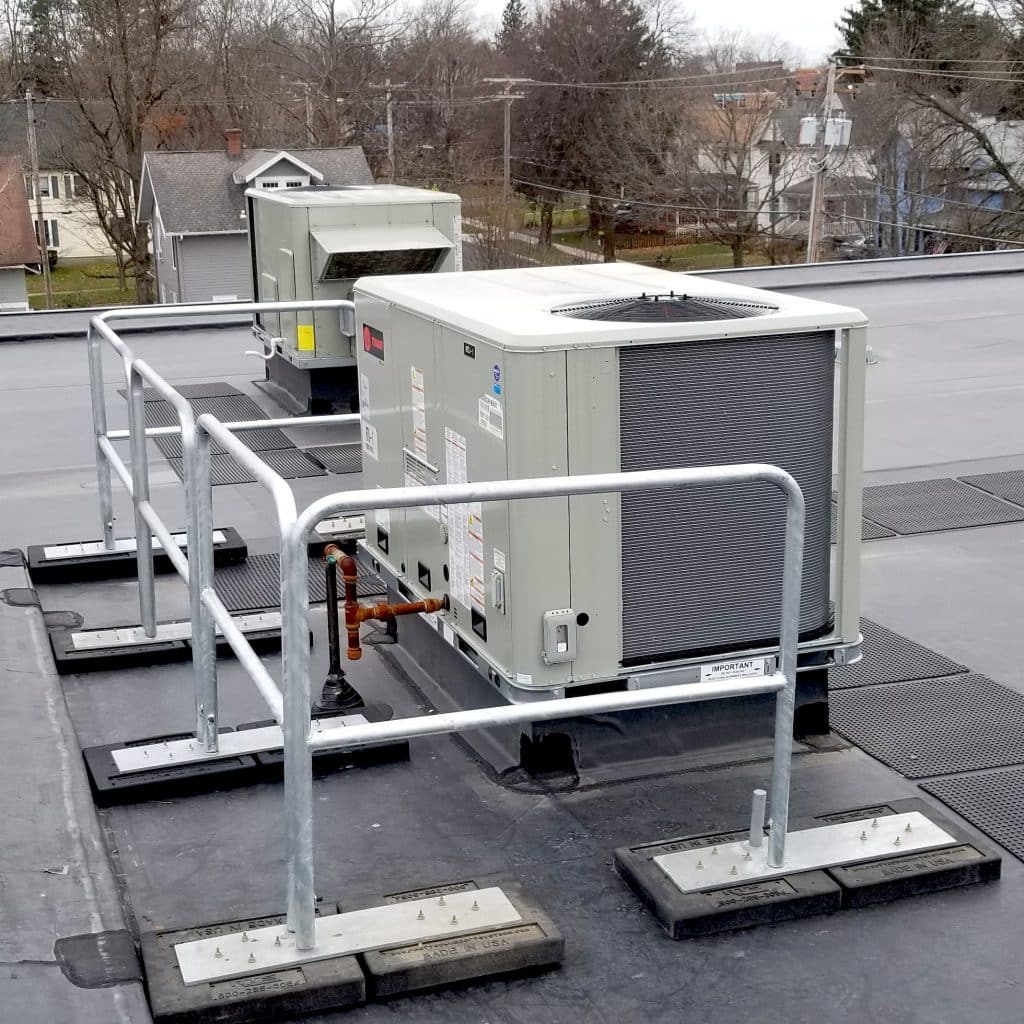 By utilizing non penetrating rubber bases, that rest directly on your rooftop, not only have we done away with the need for base to rooftop connection hardware and costly, time consuming flashing procedures, but we've also eliminated the need for a barrier layer.
Our installation process is so simple that it requires no special tools and can be performed easily by general labor. The basic process can be performed in three steps.
Position Bases On Roof
Insert Railings Into Bases
Tighten Pre-Installed Hardware
To make the installation process even easier, and to assist workers with laying out components, Rooftop Support Systems is more than happy to provide takeoff and assembly instructions that incorporate your job site specific drawings upon demand.
Downloads: Brochure, Installation Instructions & Product Submittals
Does Rooftop Need Guard Rail if Only Accessible to Maintenance Workers?
This is a question that we often get asked. The short answer is, yes. If you allow anyone onto your roof, you are required to make sure that they are safe from fall hazards, regardless of their position, training, or experience. The long answer is that it will also depend on what other (if any) fall protection safety measures and equipment are already in place on your rooftop, as well as any federal, state, and local guidelines that may apply.
1910.29(b)(3)
Guardrail systems are capable of withstanding, without failure, a force of at least 200 pounds (890 N) applied in a downward or outward direction within 2 inches (5 cm) of the top edge, at any point along the top rail.
1910.29(b)(4)
When the 200-pound (890-N) test load is applied in a downward direction, the top rail of the guardrail system must not deflect to a height of less than 39 inches (99 cm) above the walking-working surface.
About Rooftop Support Systems
Rooftop Support Systems in a division of Eberl Iron Works, Inc. RTS provides customers with innovative and economical solutions for non-penetrating rooftop support systems. Our environmentally friendly systems dampen vibrations, helping to extend roof life, while providing stable support for your high cost equipment and systems. Visit our About Us page, for more information about RTS and Eberl Iron Works.