Roof Maintenance Platforms That Don't Require Welding
When it comes to designing Roof Maintenance Platforms, there is no such thing as a one size fits all approach. Roof Maintenance Platforms must be designed and constructed specifically to incorporate your rooftop equipment, meaning custom calculations and designs that allow safe access to maintenance panels and doors without obstructing air ducts and vents. And because no two rooftops are alike, each maintenance platform is designed differently to offer the right solution for all of your rooftop needs.
Buyers typically hear the word customization and automatically associate the term costly to it, however our Rooftop Support Systems division has come up with a no weld solution that helps eliminate extra costs that occur when choosing roof maintenance platforms that require welding. Below is a breakdown of the pros and cons of a welded maintenance platform versus our custom maintenance platforms.
Welded Platforms Result in Extra Costs
Welding, both on and off the job site can be a costly operation. If welding on the job site, an experienced welder needs to be hired to weld the maintenance platform together and a costly permit is required to perform hot work operations. In places such as New York City, a Fire Marshall with a Certificate of Fitness also needs to be present to oversee the welding process. If the roof maintenance platform is welded off site, a crane is required to move the platform into place. If the proper fit is not achieved the first time, the platform will have to be modified on site or taken back to the shop for modification.
Rooftop conditions can also change. Pipes and ducts may need to be rerouted during construction or equipment may need to be swapped out. If welding has already begun on your maintenance platforms, even the smallest change in design can result in costly rework charges. On top of that, platforms that are outside should be hot dip galvanized. Hot dip galvanizing a welded platform is very cumbersome and costly. It gets even more expensive if a modification takes place after the hop dip galvanizing has occurred because the initial cost is lost. To add more costs into the mix, welded roof maintenance platforms will eventually rust. Repairs or replacements will be needed and because single parts or pieces of the assembly cannot be easily changed, the money spent to correct these problems can be just as costly as the original.
A No Weld Solution That Saves You Time and Money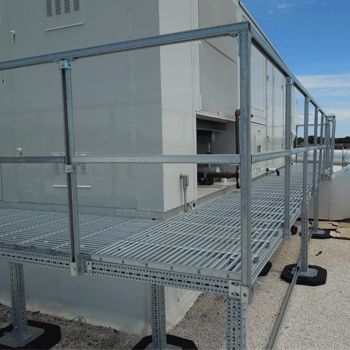 Our Rooftop Support Systems division offers no weld roof maintenance platforms that are constructed using tubular steel framing which is lighter than bulky welded steel assemblies. Our platforms arrive on site ready for easy assembly. All of the pieces are neatly organized on a pallet which means parts can be individually carried to the roof by workers on foot or hoisted to the job site with a scissor lift. An expensive crane is not needed to lift an entire assembly into place. Once the platform pieces are positioned, self forming screws are used to create a mechanical weld that holds the framing together. NO WELDING IS REQUIRED. The entire unit is assembled using an impact wrench.
Changes to rooftop conditions are not costly problems when you choose our roof maintenance platforms. Our framing can easily be trimmed or adjusted to meet site conditions. There are no costly modification charges. Rust or damage to the platform isn't a problem either. Our modular design allows you to replace single pieces. The damaged or rusted piece can easily be swapped out for a new one. The entire platform does not need to be taken apart or replaced.
Choosing a roof maintenance platform should be a no-brainer! Welded platforms come with high assembly costs, wasted time on the job site, unnecessary repair fees and avoidable headaches. Our roof maintenance platforms offer easy assembly, less time on the job site, simple repair options and peace of mind knowing you saved yourself a lot of money and a lot of stress.
Be sure to check out our entire line of Rooftop Support Products. Click the button below to shop our entire selection of products!