Designing Crossover Stairs for a Trade-show Display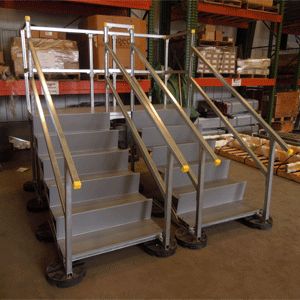 Our Metal Fabrication division was recently contacted by a customer with a specific request for a set of stairs that could be taken to trade-shows and would be used to help promote their new products. We were tasked with designing and building the entire system. The customer wanted half of the stair system to accommodate 1.5″ of fill while the other half of the display would need to accommodate 2″ of fill. Our team of experts got to work with their initial designs and quickly realized that this project was nothing more than a set of simple crossover stairs; something our Rooftop Support Systems division has dealt with numerous times. With both divisions joining together, the final crossover stairs design was completed and we were able to move on to assembly.
Adjustable Crossover Stairs to Meet Your Needs
Our crossover stair system was constructed with adjustable pipes which allows the unit to be easily modified if changes need to be made in order to meet site conditions. Adjustable pipes also mean easy replacement of specific problem areas rather than having to rework an entire unit that is made from one piece. The stringer was cut at a special angle to accommodate both sizes of our stair pans and matching fittings were fabricated to hold everything together. The grand total for the crossover stairs was $6,000 and the unit met all of the requirements given to us by our customer. The project was a huge success and it marked the first time our Rooftop Support framework was paired with our Metal Fabrication stair pans.
Beating the Competition
A competing steel fabrication company was given the same project but was unable to come close to the numbers our Rooftop Support division had. The competition's design consisted of 3 sections with a multi-part landing and a stair section that was one piece. The concern was that the large stair section would be too heavy to move from trade-show to trade-show. The design also consisted of 7 railing pieces that would need to be bolted down. Their total cost was $9,000. Stair pans, taxes and delivery were not included in this price. On top of that, the unit came prefabricated meaning costly reworks if changes needed to be made on site.
No project is too challenging for our team of experts. Our Rooftop Support Systems division covers a wide range of products including crossover stairs, maintenance platforms, duct supports and everything in between.