What Are Roof Duct Supports and What Is a Roof Anchor?
Roof Duct Supports are the perfect solution when looking for a simple, easy to assemble support system for HVAC duct work. Our patented rubber bases allow you to install our duct supports in almost any location on your roof and our adjustable cross braces let you make quick height adjustments on the job site without the need for cutting or welding. If you're looking for added stability or need your supports to withstand extreme weather conditions or seismic activity, you can easily pair them with our selection of roof anchors to form a permanent connection.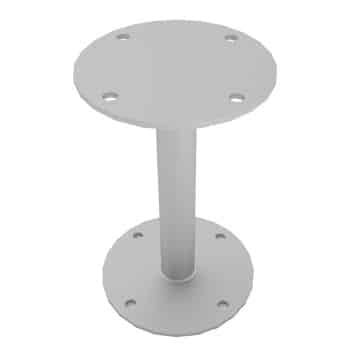 Roof Anchors are a great way to add an increased element of stability to your rooftop support systems. Our selection of bolt down steel bases allow your to permanently and directly mount the duct supports to your roof while the round base plate design allows for simple and clean roof flashing. You can also use these roof anchor bases as tie down supports, allowing you to attach rubber base mounted duct supports directly to these permanent attachment points with safety cable. These tie down points prevent the roof duct support systems from shifting or moving during extreme weather conditions or when seismic activity occurs.
Providing Roof Duct Supports with Roof Anchors for Extreme Weather Conditions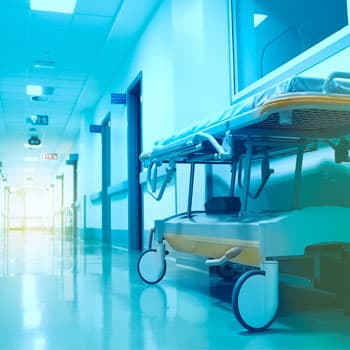 Our team of project managers and estimators were recently tasked with designing a dozen roof duct supports that would be installed at a hospital in Buffalo, NY. Similar to fire stations, police stations and emergency vehicle garages, hospitals are considered Risk Category 4 Structures. This means these buildings are deemed essential and must remain fully operational during times of natural disaster. In order to make our supports compliant with these requirements, roof anchors were used to permanently attach the duct supports to the roof. These roof tie downs made our supports strong enough to withstand 120 mph wind, safely and securely keeping the hospital equipment in place and able to operate in extreme weather.
Who We Are & What We Do
Created in 2009, Rooftop Support Systems (RTS), a division of Eberl Iron Works, Inc., has been providing customers with non-penetrating roof mount supports, custom crossovers, access platforms, h-stands, safety railing systems, walkways and more. Our skilled team of designers and estimators make sure to take the time to work hand-in-hand with every customer, providing the highest quality experience we can offer. Click the button below to download a copy of our Rooftop Catalog and explore all the products and services we have to offer!