Finding the right roof equipment supports can be a challenging task because not every mini split or condenser unit is the same. That's why we've designed a versatile, modular, and fully adjustable mini split condenser stand that is quick and easy to assemble on your rooftop with standard tools.
Our skilled team of project engineers knows that each rooftop is unique and each project may have different load bearing requirements, which is why we offer three unique rooftop supports that can be modified and configured to meet your special project needs.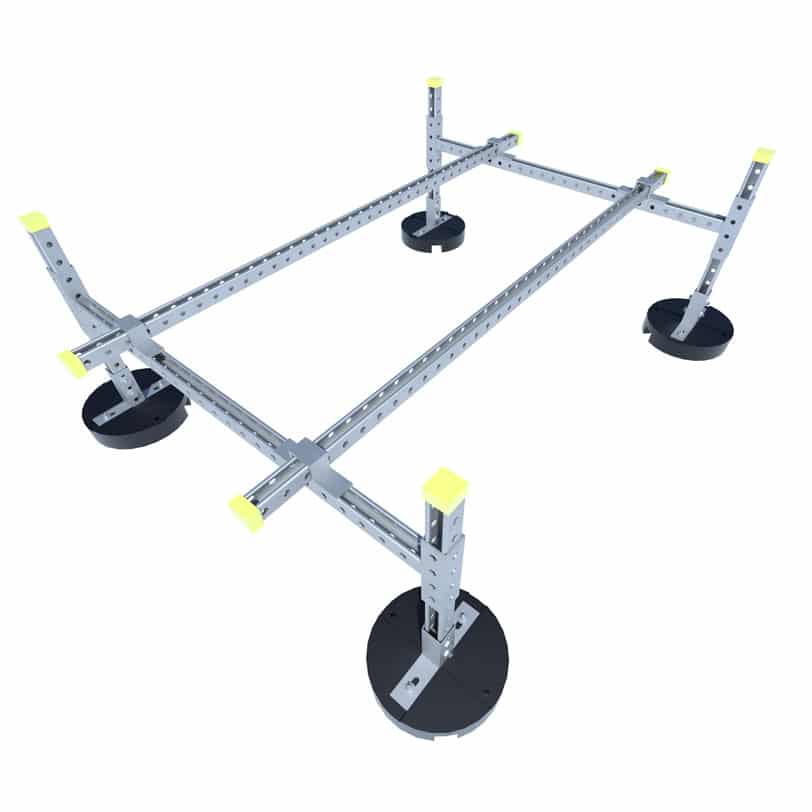 1) Mini Split Condenser Stand
The RTSEG-R equipment support is specifically designed for mini split units and utilizes a rail type frame design. This allows for easy positioning of your mini split unit, on top of the rails, in an area that works best for you.
A single support can hold up to five units, each weighing a maximum of 200 lbs. and measuring no more than 36″ L and 24″ W. The unique rail style design makes attaching the small mini split and heat pump units very fast and easy, saving you time and money. All variations of this mini split support utilize the RTSPUCF11 base.
Condensing Unit Stands for Condensers or VRF Units
2) Light Duty Condensing Unit Stand
The RTSEQ-LDF support is designed for use with light duty, traditional condenser units, as well as taller or stacked mini split units. These supports can hold up to five units on a single support, has a higher weight capacity of 250 lbs. per unit, and can accommodate condenser units measuring up to 36″ x 36″. These models can utilize either the RTSPUCF11 base or the RTSF21 base depending on your project requirements.
3) Medium Duty Condensing Unit Stand
The RTSEQ-MDF rooftop support is designed for larger, heavy duty condenser and mini split unit installations. The maximum unit size for this support is 48″ x 48″ with a maximum weight capacity of 500 lbs. This variation of support utilizes the RTSF21 base and our RTSSPB20HG seismic base can be substituted at no additional cost.
Like all of our Rooftop Support products,  the material required for the supports is pre-cut to length. All other hardware and components are securely packaged, clearly labeled, and shipped to you in kit form for ease of assembly. Once your materials arrive, they can be easily transported to your roof – without the need for a crane or other expensive equipment – and easily assembled without any special tools. Our rooftop equipment supports are fully adjustable using a standard wrench or impact driver, so no welding is required during installation. This eliminates costly modifications or replacements.
Standard sizes and configurations are listed in our catalog, however our team of project engineers can modify any design to meet your custom project requirements – including heavy duty condensing unit stands. Click the button below to shop our entire selection of rooftop equipment supports.
Dedicated to customers, company, and family since 1923
Rooftop support Systems is a division of Eberl Iron Works, Inc., a third generation family owned business that provides systemized structural support solutions. Founded in 1923 as an ornamental fabricator, EIW now has six divisions. For more information about EIW and all of its divisional offerings, visit eberliron.com today!