Rooftop Support Systems Sends H-Stands to Mexico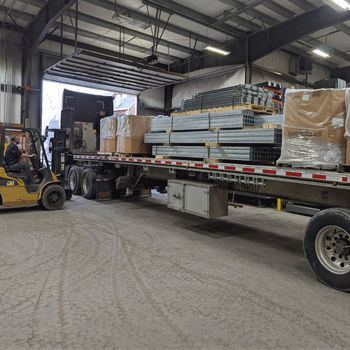 H-Stands, also known as Roof Duct Supports or Roof Pipe Supports, are designed to support HVAC duct work and piping systems. They allow you to easily mount rooftop equipment and provide a sturdy support system. Our non-penetrating rubber bases allow you to place the h-stands anywhere on your roof and the adjustable uprights and cross-braces let you make on-site adjustments to fit your custom needs. No welding is required.
Fulfilling Our Customer's Needs
Our team of rooftop support system designers and engineers were recently tasked with fulfilling an order for a customer located in Mexico. They needed over 120 h-stands to support pipes and duct work on a new building. The project called for a wide variety of sizes to support multiple HVAC systems and pipes. The ability to customize our h-stands allowed for us to accommodate the customer's needs. Below is a list of just some of the sizes that were required:
36″ uprights with a 36″ crossbrace
48″ uprights with a 42″ crossbrace
72″ uprights with a 36″ crossbrace
72″ uprights with a 72″ crossbrace
72″ uprights with a 96″ crossbrace
84″ uprights with a 60″ crossbrace
84″ uprights with a 84″ crossbrace
96″ uprights with a 36″ corssbrace
96″ uprights with a 84″ crossbrace
108″ uprights with a 48″ crossbrace
The material was brought in, cut to length, kitted, packaged and shipped out in less than 2 weeks.
H-Stands Designed To Meet Your Needs
Our H-Stands are designed to meet your unique project requirements. Each kit comes with 2 non-penetrating rubber bases, 2 uprights, 1 crossbrace and the necessary hardware to put the system together. The modular design lets you make on-site adjustments without the need to weld and the rubber bases let you keep the integrity of your roof intact. We stand behind our rooftop duct and pipe supports and guarantee they will provide the support you need.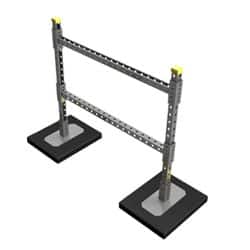 Who We Are and What We Do
Created in 2009, Rooftop Support Systems, a division of Eberl Iron Works, Inc., has been providing customers with custom crossovers, access platforms, H-Stands, walkways and more. Our skilled team of designers and estimators make sure to take the time to work hand-in-hand with every customer, providing the highest quality experience we can offer. Click the button below to download a copy of our Rooftop Catalog and explore all the products and services we offer!