Flat Roof Safety can be achieved through creating safe pathways for foot traffic on rooftops using innovative construction and design
When thinking about rooftop safety, it's only natural to picture roofs with steep inclines, which require workers to wear fall protection safety harnesses in order to maintain personal rooftop safety. But many commercial and industrial buildings have flat roofs where HVAC, mechanical and other equipment is housed, which leads to other roof safety concerns.
Workers need to access this equipment frequently, and in all types of weather conditions, to maintain it and keep it in good working order. These rooftops are open to the elements: wind, rain, sleet, snow, and even blown debris, such as leaves and branches. This creates a need for safe walking surfaces to not only access equipment, but also to navigate over rooftop obstacles.
Rooftop Crossovers, Walkways, Stairs, Ramps and Access Platforms provide safe passage for people on top of roofs by evenly dispersing their weight over a larger surface area of the roof, and by offering them safer walking surfaces when navigating rooftop obstacles, such as equipment and pipes.
Key Benefits of Rooftop Crossover Stairs, Access Platforms, Rooftop Walkways & Ramps
Provide improved access to equipment for maintenance purposes
Guide foot traffic to avoid structural stress points in your roof
Supply safe routes over or around rooftop obstacles
Offer safe, anti-slip walking surface in all weather conditions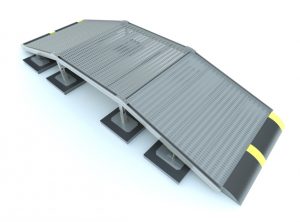 Our heavy-duty, component based recycled rubber rooftop supports are both modular and non-penetrating, making them quick and easy to install with standard hand tools. No special tools are necessary, and little to no assembly is required. The need for cutting, drilling, welding and other labor intensive and time consuming activities is completely eliminated.
Supports are custom built to your measurements and shipped, in component form, directly to your job site. Minimal assembly is required. For supports that won't fit in your service elevator, an elevated forklift or crane will easily lift them into place on your rooftop.
Our supports are offered in a variety of finishes, including hot-dipped galvanized and stainless steel, for improved longevity and superior resistance to corrosion.
We make use of environmentally conscious 100% recycled rubber bases, which can be placed directly onto the rooftop without the need for barrier layers or flashing. Bases will not damage or penetrate your rooftop, and the wide footprint ensures superior weight dispersal and minimizes stress to your rooftop.
Rooftop Support Systems incorporates a high level of adjustability and adaptability in our designs, allowing you to direct the flow of traffic over your rooftop however you want.
Increase flat roof safety while saving money with our cost effective Rooftop Support Systems, which cut significant time and labor from your installation process. Our modular systems can be easily installed in much less time than traditional systems, and with much less effort.