Our Custom Rooftop Supports Keep Pipes and Ductwork Safe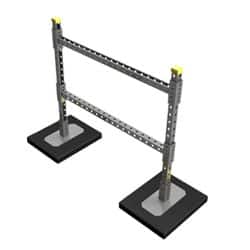 H-Stands are unique custom rooftop supports that allow you to safely and securely support pipes and ductwork. Their modular design allows you to easily assemble the unit on the job-site and also offers the ability for you to make onsite modifications without additional cutting, bending or welding. They come in a variety of sizes and styles to accommodate any rooftop application with options that include portable non-penetrating rubber bases and direct mount bases where extreme weather conditions may be a factor.
Shipping Up to Boston
Our Rooftop Support Systems (RTS) designers and engineers were recently tasked with supplying 480+ custom rooftop supports for a general contractor who was working on a pharmaceutical project in Boston, MA. The order included a mixture of non-penetrating and direct mount bases which also included wind load bracing and tie-downs to meet local building code requirements for wind. The final design was approved to withstand wind speeds up to 105 mph.
Rubber Bases Save Time and Money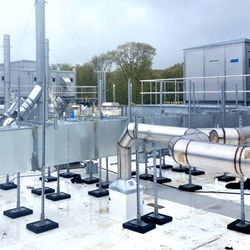 After looking over the initial scope of the project, our project managers realized that rubber bases could be used on some of the custom rooftop supports, decreasing the number of roof penetrations from 962 to only 358. This saved the customer a significant amount of money and time in labor by eliminating more than half of the roof work that would have been required to flash in curbs or install all direct mount bases. This also decreased the chance of water leakage and improved the structural integrity of the rooftop itself.
Who We Are and What We Do
Created in 2009, Rooftop Support Systems, a division of Eberl Iron Works, Inc., has been providing customers with custom crossovers, access platforms, H-Stands, walkways and more. Our skilled team of designers and estimators make sure to take the time to work hand-in-hand with every customer, providing the highest quality experience we can offer. Click the button below to download a copy of our Rooftop Catalog and explore all the products and services we offer!