A lot of Custom Engineering Goes Into Making Sure Every Detail is Perfect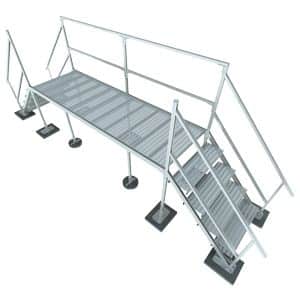 When designing access platforms and other custom rooftop support systems, every detail needs to be perfect. Our team of engineers and designers need to ensure all safety codes and requirements are met, while also taking specific customer dimensions and requests into consideration. We want to guarantee 100% safety and functionality and pride ourselves on our ability to complete these projects on time.
Supplying Custom Access Platforms to a University in Dayton, OH
Our Rooftop Support Systems Specialists were recently tasked with designing very large custom access platforms for a university in Dayton, OH. The platforms would allow maintenance workers to easily and safely perform work on rooftop equipment, but needed to meet a wide range of safety criteria because of the area where the support systems were being installed. The first safety requirement that needed to be calculated was the total weight of the access platforms to make sure they were heavy enough to resist wind uplift forces per the local building codes. Severe weather factors such as 120 mph wind speed, risk category 2 and exposure category B also needed to be taken into consideration. On top of that, the access platforms were being installed on a rooftop that was over 100 ft high. When everything was said and done, all safety codes and regulations were met, the platforms were easily assembled on site and the customer was extremely happy with everything our designers and engineers were able to accomplish in such a short period of time.
Who We Are and What We Do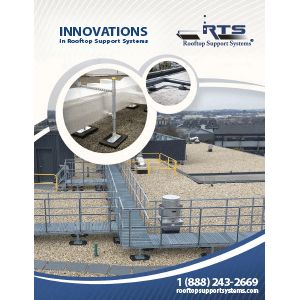 Created in 2009, Rooftop Support Systems, a division of Eberl Iron Works, Inc., has been providing customers with custom crossovers, access platforms, H-Stands, walkways and more. Our skilled team of designers and estimators make sure to take the time to work hand-in-hand with every customer, providing the highest quality experience we can offer. Click the button below to download a copy of our Rooftop Catalog and explore all the products and services we offer!