Rooftop Guardrail Systems Provide Protection and Increase Safety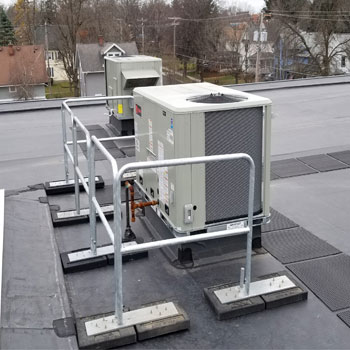 Making sure your rooftop maintenance workers are safe from potential fall hazards should always be your number one priority. A great way to make sure they stay safe is to install a rooftop guardrail system. It not only is a way to keep maintenance workers safe when performing services on rooftop equipment, but it also provides leading edge fall protection. Our Rooftop Guardrail System is an easy to use and easy to assemble solution composed of custom guardrails and portable rubber bases. The guardrail system can be assembled right on the job-site, eliminating the need for heavy machinery, cutting or welding. Simply position the bases where the fall protection is needed and insert the railing sections. You'll get instant protection and satisfaction knowing your workers and equipment are safe.
Rooftop Guardrail Installation for a Local Customer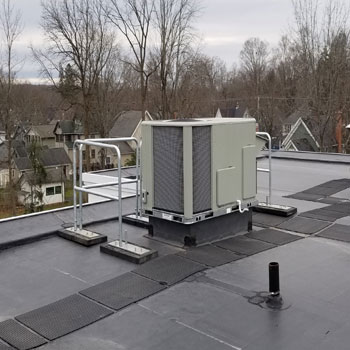 Our team of designers and installers recently had a quick job to provide a local customer with a rooftop guardrail system that needed to be placed around a piece of equipment that was less than 10 feet away from the edge of the roof. 6 rubber bases and 5 railing sections were shipped to the location where our installer was easily able to transport everything on to the roof. In a matter of 2 hours, the system was securely installed around the unit, providing protection and increasing safety. The customer was very pleased with the ease of installation, the look of the design, and the sturdiness of the guardrails. We were also able to provide him with similar estimates for future fall protection projects while we were on the job-site.
Complete Your Next Project for Less With RTS
Rooftop Support Systems (RTS), a division of Eberl Iron Works, Inc., offers a unique line of roof duct and pipe supports, access platforms and walkways, and other rooftop systems that provide support and protection. No job is too big or too small for our project managers and estimators and we'll make sure we meet all of your custom requirements along the way. Click the button below to request a quote and let us help you get started on your next rooftop project.