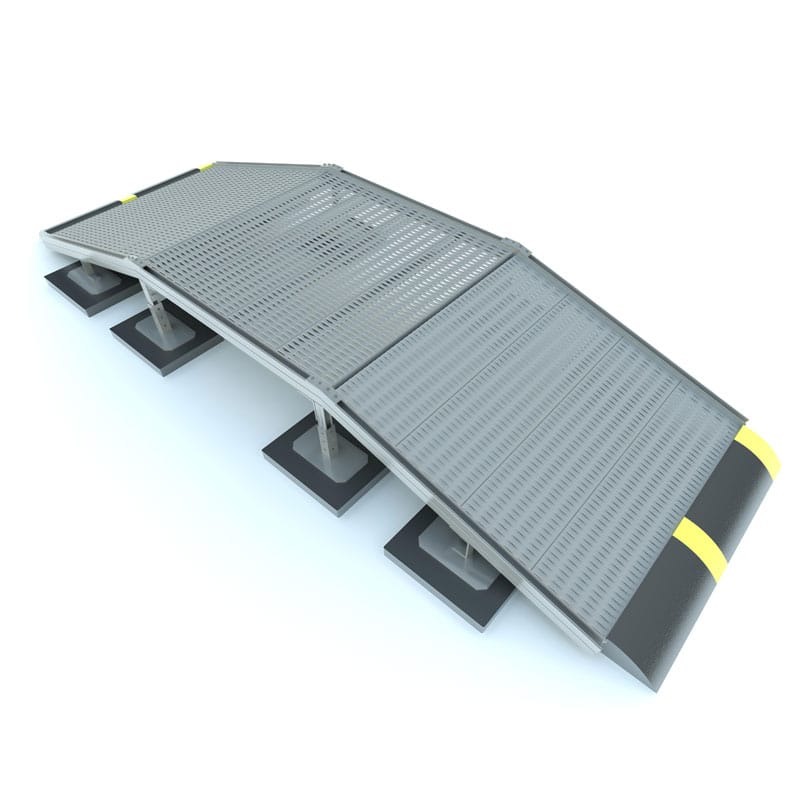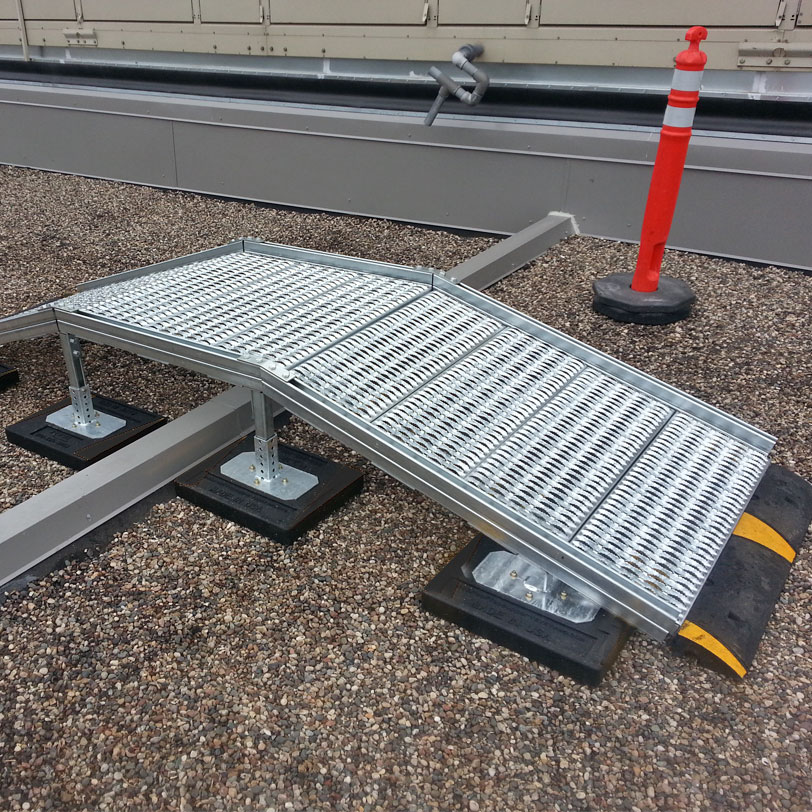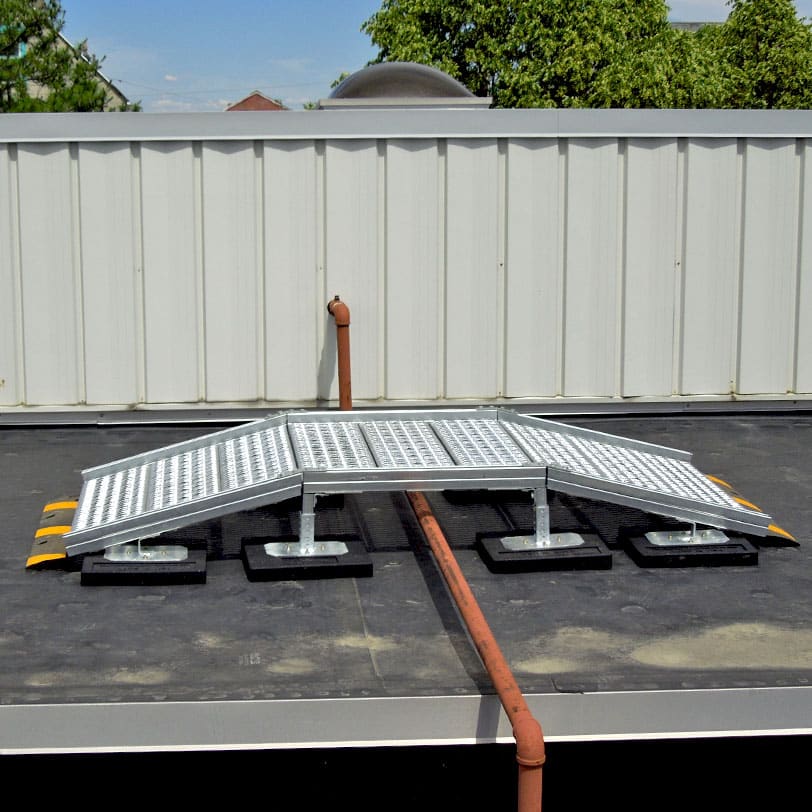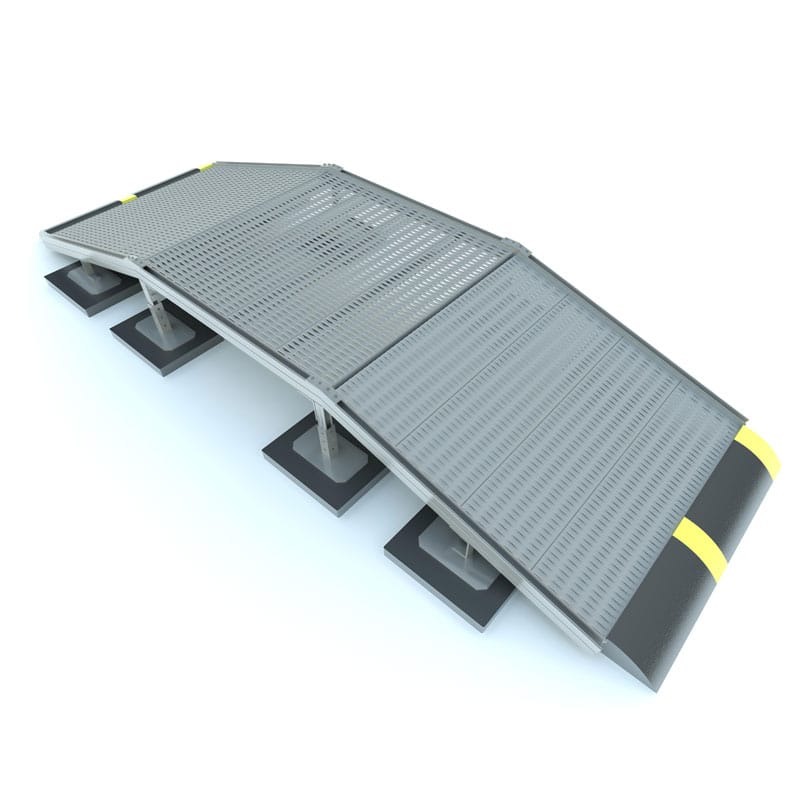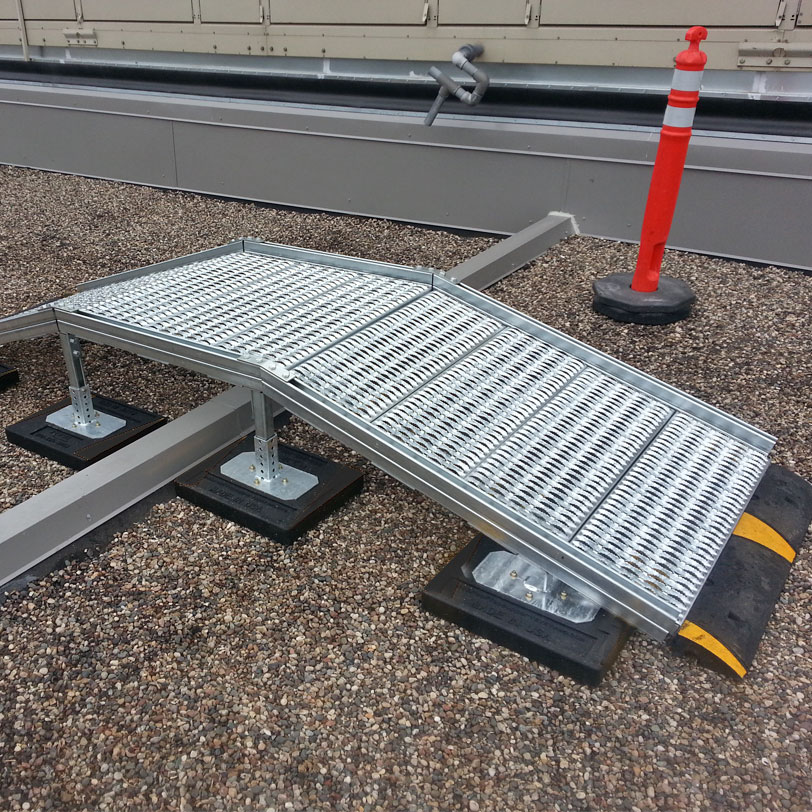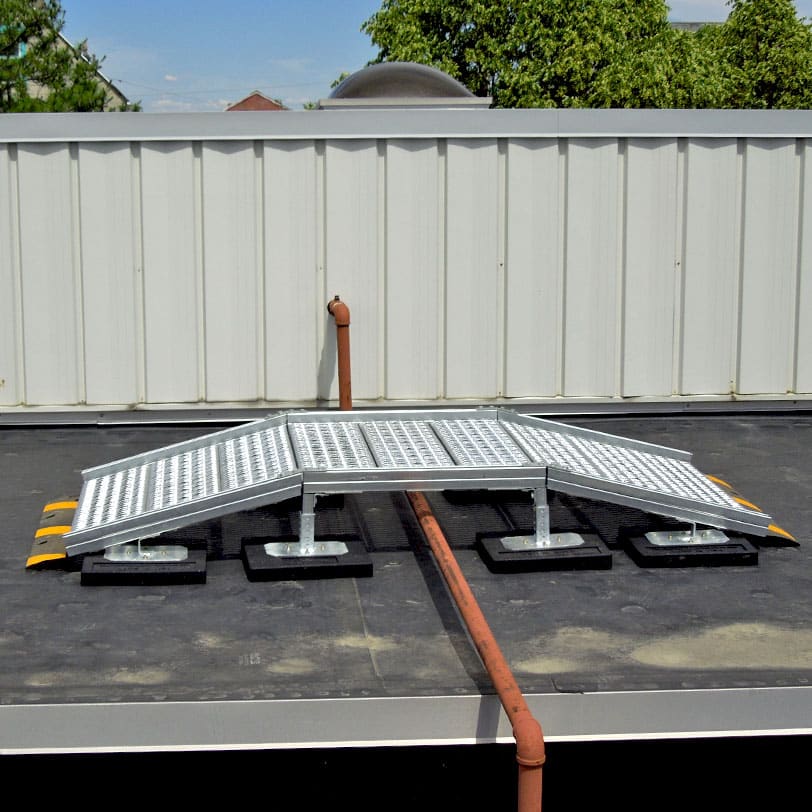 RTSRAMP: Rooftop Crossover Access Ramp
Crossover Access Ramps provide a safe way for people and wheeled loads to navigate rooftop obstacles, such as gas and mechanical pipes, condensate pipes, or electrical conduit.
Crossover Access Ramps safely allow pedestrian traffic over rooftop obstacles and utilize an innovative design that uses less material and saves you time during installation. Access ramps are supported by modified RTSF21 rubber bases that are non-penetrating and will not harm roof surfaces.
Rooftop access ramps are constructed out of high strength steel framing with 12 gauge anti-slip grating to support up to a 460 lbs. concentrated load at 36" wide. All Standard crossover ramp designs include a 36" wide platform with a 15° slope and include a rubber transition piece. Safety railings are available if desired. 
In addition to standard sizes listed below, custom solutions are also available upon request.
All material is shipped cut to length, and ready to assemble with common hand tools.  
Available finishes: Pre-galvanized, Hot Dip Galvanized, and Stainless Steel.
Design Standards:
Ramp Width = 36″
Ramp Angle = 15°
Grating = Anti-Slip Diamond
Determing correct size
S = Platform Span     H = Platform Clearance Height
Determine the width and the height of the obstacle to be traversed and round up to the next available values for "S" and "H"
| S | H |
| --- | --- |
| 35-1/4″ | 10-7/16″ |
| 47″ | 13-9/16″ |
| 58-3/4″ | 16-5/8″ |
| 70-1/2″ | 19-3/4″ |
| 82-1/4″ | 22-7/8″ |
| 94″ | |
| 105-3/4″ | |
| 117-1/2″ | |
Win Win Situation!
"Thank you for your immediate attention to our request. Your ability to help resolve a time sensitive issue, provide clear concise information and willingness to think outside the box made this a win win situation. We look forward to working with you in the future."
Great Lead Time & Service!
"The lead times on the RTS materials have been great, you get them done when or before we need them and the service has been great."
Highly Recommended!
"Eberl is easy to work with and they provide quality products. Standard items are available quickly and installation is simple and straightforward. Custom products or projects requiring seismic or wind certification can be provided with as much detail as required to ensure a successful installation. Any issues we have run into with the customer or end user have been dealt with quickly and appropriately.  We would absolutely recommend them to anyone looking for these type of products."
Brian | Samuel Tepp Associates, LLC
PROMPT SERVICE!
"Thanks for the prompt service, in providing us with our order, so that we could complete our job in a timely manner!"
Don | Power Engineering Corp
Great Customer Service!
"Thanks guys I appreciate the quick responses and great customer service!"
Steven | Climate Engineers