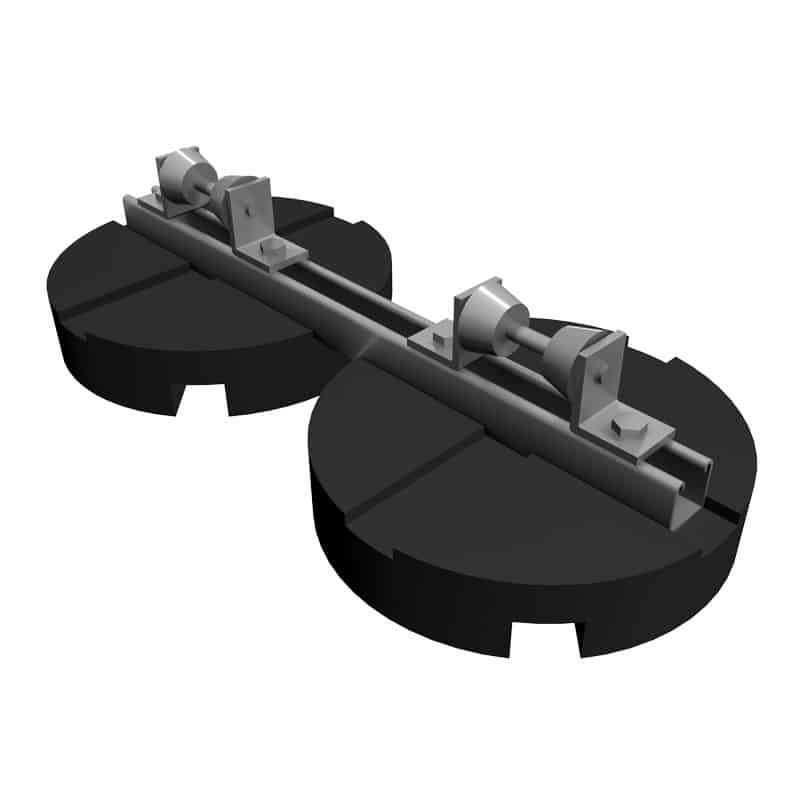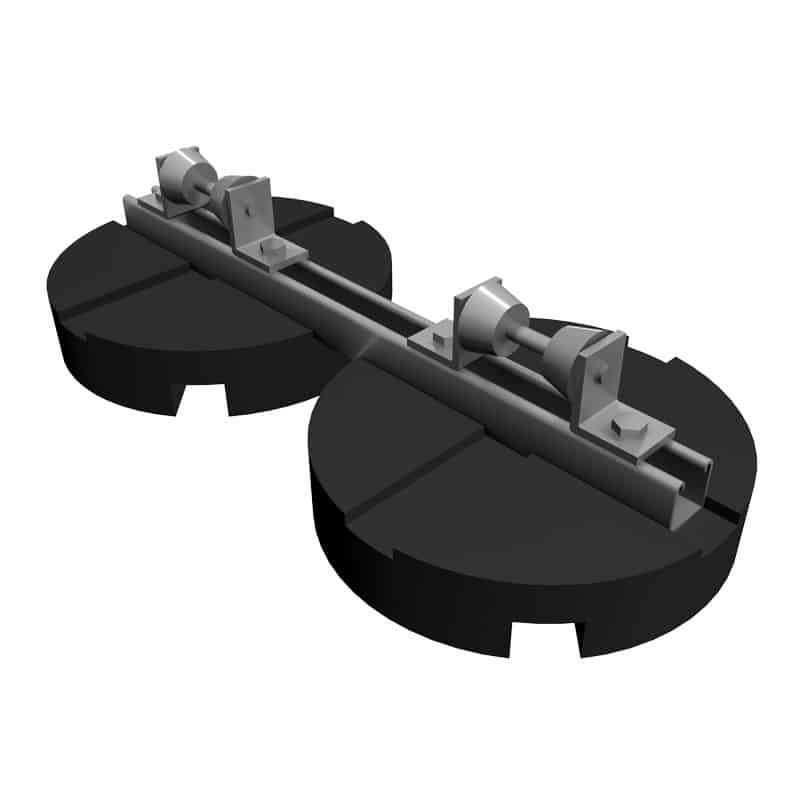 RTSPUC1BR: Bridge Support with Pipe Roller
Bridge Pipe Roller Supports offer a wider area to mount larger diameter pipes, or multiple pipes, and are equipped with 1-5/8" channel and pipe roller(s).
The Incredibly Versatile RTSPUC can be Used in a Variety of Applications:
Electrical Conduit/Condensate: Three varieties of channel are available for varying heights of installation, and if vertical adjustability is required, ½" threaded rod is used to add up to 24" of height. Bridge supports can carry several pipes together. Pipe clamps are available upon request.
Gas and Mechanical Piping: Rollers are added to conduit/condensate supports to accommodate pipe expansion and contraction.
Small Pipe: H-Stand kits are available using the RTSPUCF11 base for smaller runs of square or spiral duct, or pipe that is mounted more than 12" above the roof.
Rooftop Support Systems rubber base supports are non-penetrating and made from very durable compression-molded, recycled crumb rubber. This creates an extremely sturdy foundation for our roof support products, that is also safe for direct use on all roof types, without the need for any additional barrier layers.
Uses: Pipe, Conduit, or Condensate line up to 6" Diameter
Product Dimensions: Bases are each 12" Diameter x 2.5" Thick x 4-3/4" High, 1-5/8" channel at a length of your choice and pipe roller included
Pipe Mount Height: 4.75"
Weight: varies
Win Win Situation!
"Thank you for your immediate attention to our request. Your ability to help resolve a time sensitive issue, provide clear concise information and willingness to think outside the box made this a win win situation. We look forward to working with you in the future."
Great Lead Time & Service!
"The lead times on the RTS materials have been great, you get them done when or before we need them and the service has been great."
Highly Recommended!
"Eberl is easy to work with and they provide quality products. Standard items are available quickly and installation is simple and straightforward. Custom products or projects requiring seismic or wind certification can be provided with as much detail as required to ensure a successful installation. Any issues we have run into with the customer or end user have been dealt with quickly and appropriately.  We would absolutely recommend them to anyone looking for these type of products."
Brian | Samuel Tepp Associates, LLC
PROMPT SERVICE!
"Thanks for the prompt service, in providing us with our order, so that we could complete our job in a timely manner!"
Don | Power Engineering Corp
Great Customer Service!
"Thanks guys I appreciate the quick responses and great customer service!"
Steven | Climate Engineers